Lil Uzi Vert's multi-million dollar diamond embedment on his forehead creates a mess for him. Even He fears losing his life if it's could not take it out properly. Sharing a tween on Twitter (Later deleted) he makes the statement that "If I don't get it took out the right way I could Die 🙂 … No Seriously."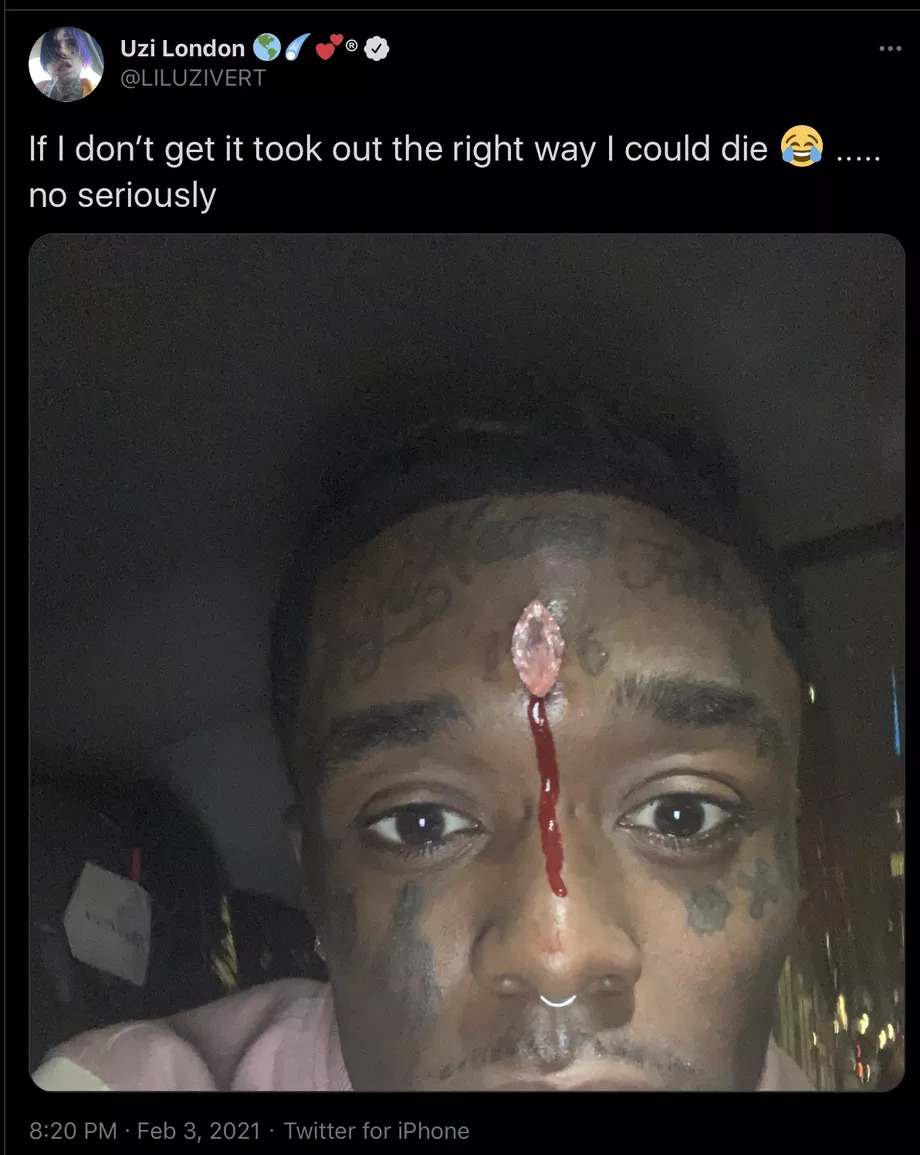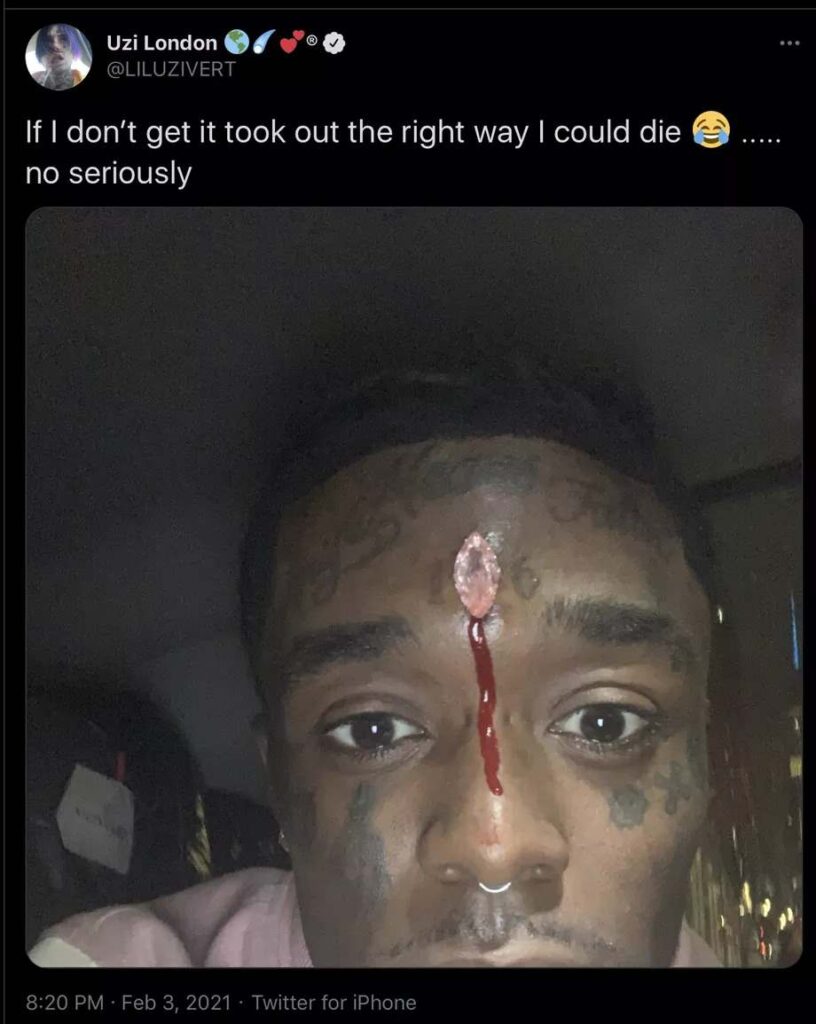 In tweet, Now Author has already deleted that tweet; the popular rapper Shared a photo where he can be seen blood leaking from his most expensive $25 million embed Dimond from his forehead.
You may be interested in: Is Lil Baby a self-made Millionaire?
Lil Uzi Vert decided to embed a Dimond on his forehead just above the middle of his eyebrow, but unfortunately, this incident turned into a fatal and serious health condition. If it's not removed properly, his life can be in threat of death.
The incident happened on Wednesday Night, and The famous rapper posted a Twitter for his fans that his reimplemented on the forehead had gone wrong. Posting a selfie bleeding from his forehead and an expensive diamond stuck has been seen on these Twitter pics.

The deleted tweets sparked a flame, worried his fans, and prayed for him.
Someone writes, "Bro, and if this is not safe, you better take it off, I don't want to see you dead."
Another Twitter user wrote, ensuring him that "he could be fine as long as the gem is safely removed."
Rapper Lil Uzi Vert already had facial tattoos and piercings, but this time things went wrong. Seeing his fans, he posted a video showing his face on his Instagram video the famous Musicians he is okay. But this time, the blood was cleaned from his face. He says, "Ok, We're good," and writes in the caption, "I'm literally tryna turn into a diamond."
After removing gems, Uzi's face went viral on social media and became the topic of Conversion among his fans. His fans hardly believed their idol, popular rapper Atake emcee, could develop this dangerous idea.
All though the result was obvious, a week ago, on the weekend, he revealed that he would buy $24 million in expensive gems. At that time, the things went viral; which gems he planned to buy, and for what purposes?
"I've been paying for a natural pink diamond from Elliot for years now," Uzi tweeted. "This one Stone cost so much I've been paying for it since 2017. That was the first time I saw a real natural pink diamond. A lot of M's in my face."
Sources said that the expensive pink diamond contains at least 11 carats, which will be his biggest purchase to date.
"Beauty is pain," reads the caption on Lil Uzi Vert's Instagram video.
The rapper disclosed spending the last four years on these expensive gems. When one of his fans asked him to put the diamond on the ring instead of putting it on the forehead, he replied, "If I lose the ring, yeah, U will make fun of me more than putting it on my forehead … And yes, do have insurance."
News Source: revolt.tv
cnet.com