Olga Ladyzhenskaya: Famous Russian Lady mathematicians Olga Aleksándrovna Ladýzhenskay Aka Olga Ladyzhenskaya (March 7, 1922 – January 12, 2004) Was born in Kologriv, Russia. Russian mathematician recognized for her contributions to differential equations and fluid dynamics. Ladyzhenskaya was one of her generation's most talented mathematicians and important thinkers; Throughout her career, she wrote around 250 articles and 7 books. She focused on the study of partial derivative equations and other related topics. During the Stalin regime, Ladyzhenskaya and her family were considered enemies of the people, which is why they were humiliated and rejected, even denied admission to the University because of this.

His father was a mathematics teacher who inspired her, blossoming her love for mathematics.
.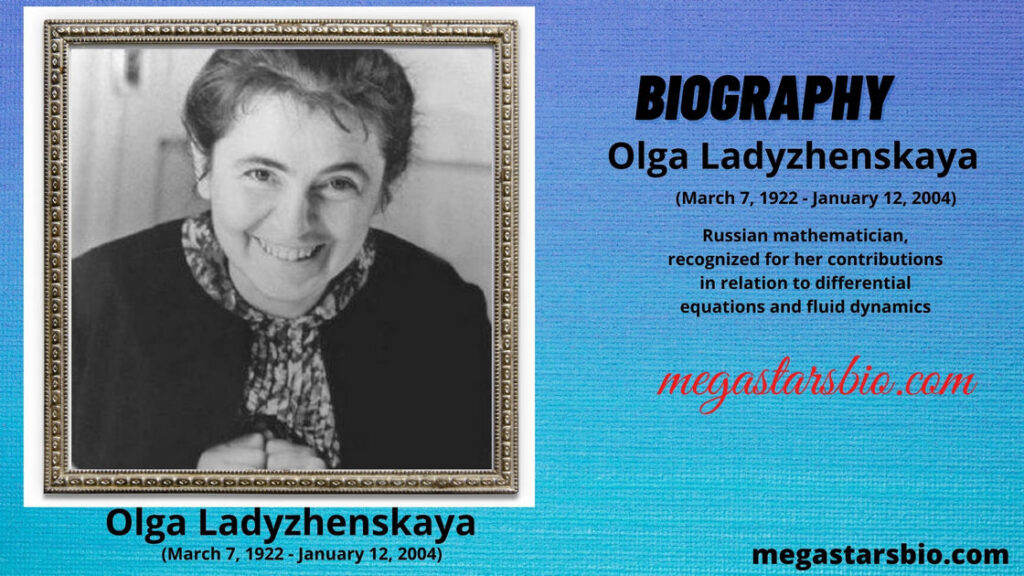 Family Background and Relatives.
Ladyzhenskaya was born into a middle-class family and low rural nobility; her parents were the mathematics teacher Aleksandr Ladízhenski and the housewife Anna Mikhailovna. She was the youngest of the couple's three daughters, and her grandfather was the renowned painter Gennadi Ladízhenski, of whom Ladyzhenskaya preserved various paintings. He studied at home with his sisters, as Kologriv was far from cultural centers. In the 1930s, Olga's father taught her daughters basic notions of mathematics and geometry, then proved them with a theorem she created.
| | |
| --- | --- |
| NAME | Olga Ladyzhenskaya |
| ORIGINAL FULL NAME | Olga Aleksándrovna Ladýzhenskay |
| NICKNAME(S) | Olga |
| BORN (DATE OF BIRTH) | 7 March 1922( 07.03.1922) |
| AGE(AS ON 2004) | 82 YEARS OLD( When She died) |
| BIRTHPLACE | Kologriv, Russia |
| NATIONALITY | Soviet–Russian |
| PROFESSION | Mathematician |
| Death | January 12, 2004 |
Olga Ladyzhenskaya Biography
In her class, the youngest of the sisters stood out, demonstrating skills that surpassed anyone her age. As time passed, Ladyzhenskaya studied advanced mathematics and calculus, showing the level of an adult. Classes ended, and Ladyzhenskaya's life changed in 1937 when the Joseph Stalin regime captured her beloved father. Because at that time of the Staline regime, they were considered enemies and humiliated and rejected. Her father, Aleksandr Ladízhenski, was arrested; soon after that, he was declared an enemy of the people, sentenced to death, and killed.
His father's conviction led to the family being persecuted and humiliated, his sisters being expelled from school, and the family facing serious financial problems. Ladyzhenskaya was allowed to finish her secondary studies, as she was an exceptional student, but she did not have the same luck when she wanted to enter Leningrad University. After being rejected for her last name, Ladyzhenskaya began working at the Teacher Training School and taught at the same college her father worked.
You can also Read: Emiliano Zapata's Biography
STUDIES
In 1943, he entered the University of Moscow thanks to the influence of one of the mothers of his students. At university, she studied algebra, number theory, and partial derivative equations; in the latter, she specialized shortly after. Although she faced serious financial difficulties, she supported herself with a scholarship and a ration card. She attended numerous advanced seminars and completed compulsory subjects quickly, allowing her to attend advanced classes and continue studying differential equations.
Before finishing his studies, he organized a seminar on differential equations for young people, to which he invited leading mathematicians from Moscow. Ladyzhenskaya graduated in 1947 and received her doctorate two years later with a thesis on equations in partial derivatives.
This revolutionary study could only be published years later, after the death of Stalin in 1953. After finishing her studies, Olga married the famous mathematician Kiselev of Saint Petersburg, where she began participating in the Mathematical Physics seminar. While participating in the event, Ladyzhenskaya interacted with various mathematicians studying differential equations.
Also Read:
In 1953, his doctoral thesis and his first book, Mixed Problems for a Hyperbolic Equation (1953), were published. The following year, Lady Olga became a professor at St. Petersburg State University, one of the world's oldest universities, and a researcher at the Steklov Institute of Mathematics, which she later directed until 1991.
In the 1960s, Ladyzhenskaya made great strides in the field of differential, parabolic, and partial equations. And linear and quasilinear hyperbolic. At the beginning of this decade, she made great contributions to the field of nonlinear problems in mathematical physics with her book, The mathematical theory of Viscous Incompressible Flow (1961).
Olga Ladyzhenskaya is the only lady mathematician who provided the first rigorous proof of the convergence of a finite difference method for the Navier-Stokes equations, which is now applied in various mathematics sectors.
During her life in Saint Petersburg City in Russia, Ladyzhenskaya was an active member of the city's intellectual community. In the years she was a member of the municipal council of people's deputies, Ladyzhenskaya helped academics and their families stay free in the city.
Throughout his career, he published around two hundred and fifty articles and seven books; he also received various honors, such as his election as a full member of the Russian Academy of Sciences, and some awards, such as the Ioffe Medal, the Lomonosov Gold Medal, and the Medal of the University of Saint Petersburg.
Ladyzhenskaya passed away at the age of eighty-one in Saint Petersburg on January 12, 2004, five months before we observed her 98th birthday. On March 7th, 2019, on her 97th Birth anniversary, tech giant Google paid tribute to the outstanding thinker and mathematician through her animated doodle, in which she is seen.