Who is Mammikka? Why did he become Famous?
From day laborer to a supermodel! The 60-year-old Mammikka was shocked by the touch of fashion.
The age has reached the sixty mark. But what's in it? Age is nothing but just a number with a touch of fashion. Kerala's daily labor, therefore, became fashion models overnight. Six days on his social media, this day laborer has responded all around.
This elderly day laborer was chosen as a model by a local company. In this viral photoshoot, Shareek Vialil was behind the camera. Mammikka is dressed in a brown jacket and a white shirt. with coordinating pants and shoes. Mammikka also has a brown tie around her neck and black sunglasses over her eyes. Mammikka is sitting, holding an iPad. The natural beard and head-filled hair add a touch of aristocracy.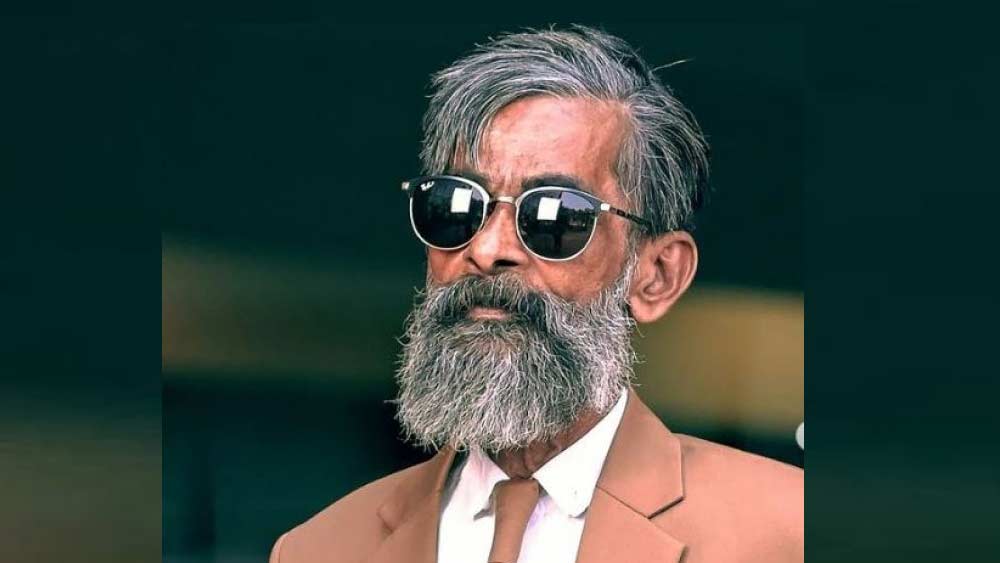 Simultaneously, images of Mammikka in her day laborer form have circulated on social media. He was wearing an old light-colored shirt and khaki lungi when he was seen there. Lungi rolled up his garment above his knee. A towel is tied around the head. Nobody could have predicted that this type of day laborer, Mammikka, would become fashionable. As a result of this photoshoot, there has been a craze on the internet.
Also Read: Loni Wilison? Why did she Spot trash Diving Recently?
Mammikka wants to give all the credit for her sudden popularity to the photographer, Shareek. Once before, when Shareek took a picture of him and spread it on Facebook, many people said that Mammika should look like actor Binayakan. Then a new viral Mammikka in a new photoshoot.
Shareek asked Mammikka to make a model for his own company. The makeover she had to go through for that photoshoot has all been captured on camera. That video went viral on social media. Millions of people have seen the story of becoming a day laborer model on Facebook and Instagram.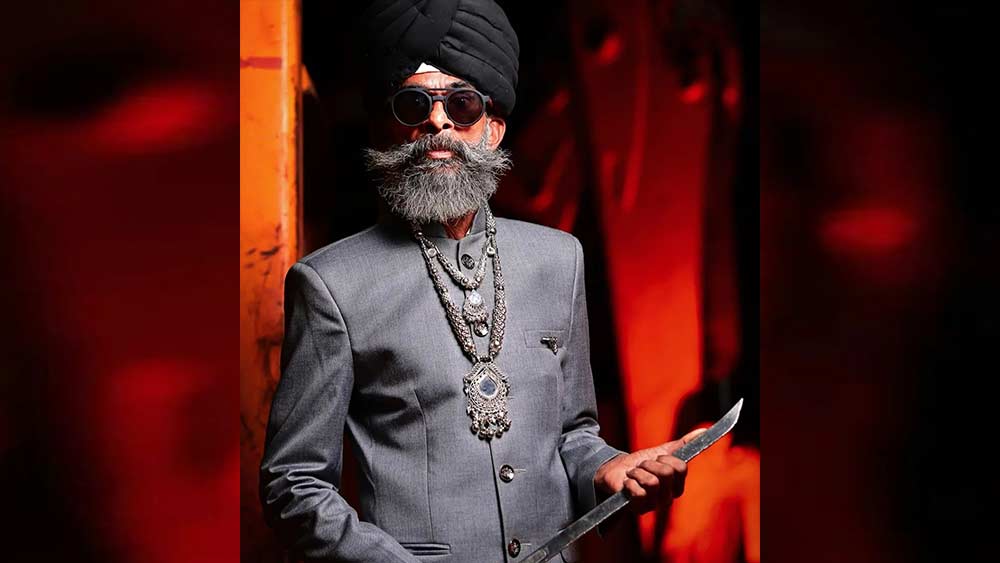 Shareek said he could not think of a better model for his company than Mammikka. Since then, the 60-year-old Mammikka has decided to work as a day laborer and a model side by side, but will not let go of his daily labor. He thinks these daily wages helped him save his family and helped him be economically stable and independent. This was the only source of income to live with, and he will not leave it at any cost.
How Mammikka Become a Super Model
He is wearing a colorful shirt and folded lungi. The face is almost covered with a mustache. The older man does not remember the last time he touched the oil on his forehead. Neighbors are used to seeing him in this look. But nowadays, they are dazzled by the glamor of that older man. The older man who earns daily wages has become a wedding suit model overnight!

The neighbors did not pay much attention to the old mammoth of Kozhikode in Kerala. However, the seemingly ordinary Mammikkai is catching everyone's eye nowadays. She has made a splash in the net world as a model in a wedding suit. Nowadays he is wearing expensive suits!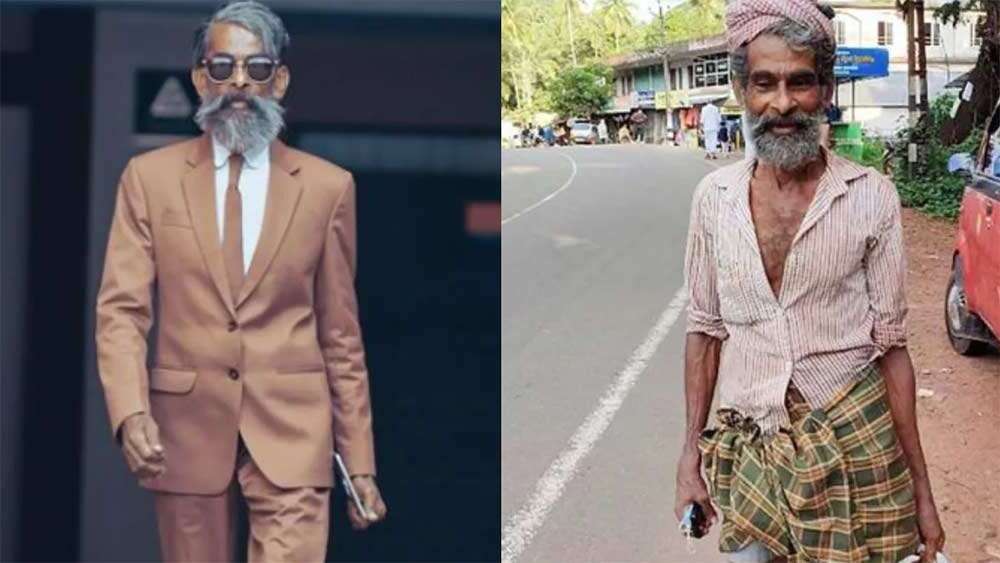 There was nothing new in Mammika's diary. I had to wake up early in the morning and run searching for livelihood. At the end of the day, he would buy fish and vegetables and return home with whatever he could earn. This was the daily routine of the old day laborer in the Bennakkar area of ​​Kozhikode.
Suddenly the fate of Mammikkar changed. Ranchera leaves his lungi and shirt, wearing an expensive suit and tie and facing the camera. Older in the light of overnight fame by modeling for a local wedding suit manufacturer.
Mamma's glamorous look fascinates her neighbors as well as the media. How to become a glamorous model overnight from a day laborer?
Also Read: Lexi2legit Biography
Mammikka caught the eye of Bayalil Sheikh, a renowned photographer from Kerala. However, he said some time ago. At that time, Shareek took a picture of the day laborer and shared it on Facebook. There was a lot of fuss about it in the net world.
Shareek forgot about it after posting the picture of Mammikka. But recently he needed a model for his wedding company.
Shareek told the media that one person's word came to his mind when he needed a model. He's a mummy!
This time Shareek contacted Mammikkar to model for his company. His makeover also begins. Take Mammick to the expensive salon. Uskokhusko hair is trimmed to fashionable rice. Cosmetic layers are also worn to restore the radiance of rough skin. This time his random mustache was trimmed. The old-day laborer changes the volume overnight.
Mammick was posed for the camera several times before modeling for the wedding suit. He was also photographed wearing various trim suits and sherwani. Finally, the partner started the photoshoot of the older man.
Also Read: Who is Terminal Man?
The magic of the partner's hand is impressive. Numerous dazzling pictures of model Mammikka have been seen on the net. One-handed Apple iPad. Cover your eyes with expensive sunglasses. Wear an expensive suit-tie. Sometimes standing outside a shiny SUV. Ever or walking slowly. Seeing this old model of net media, many have said, just like Malayalam actor Binayakan!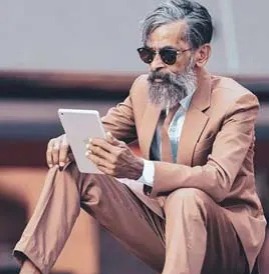 Numerous pictures of model Mammikka are also being circulated on Facebook or Twitter. He has also opened an Instagram account for fans.
Despite being an overnight star, Mammika did not leave the ground. Even if he is a model, he will not give up day labor. Mammikka used to pull the family by doing day labor at one time!