Tekashi, aka 6ix9ine, New York Based rapper, is now trending on social media platforms.  Recently he has shown off his insane luxurious, expensive car collection and threw a one-to-one fight challenge to popular rapper Meek Mill. Previously being challenged by Riff Raff, now Tekashi ready to 1 on 1 fight with Meek Mill, a video upload on the 6ix9ine Instagram channel where he can be seen representing his luxurious supercars collection and expensive wristwatches.
Tekashi69 wants to face off with Meek Mill one-on-one, face to face. He opens the challenged Mill showing his collection of costly luxurious cars. The duo was trending the last few days due to their confrontation was filmed outside of a Club on valentine's Day.
Meek Mill and Teakashi69's feud has been building since 3 years ago, 2018; at that time, 6ix9ine was arrested on racketeering also serious firearm charges were initiated against him. Mill also called him a rat, "good kid" caught up, etc., humiliating and downing Takashi's character. This feud continues now Tekashi made an open challenge in 2021 to meek mill.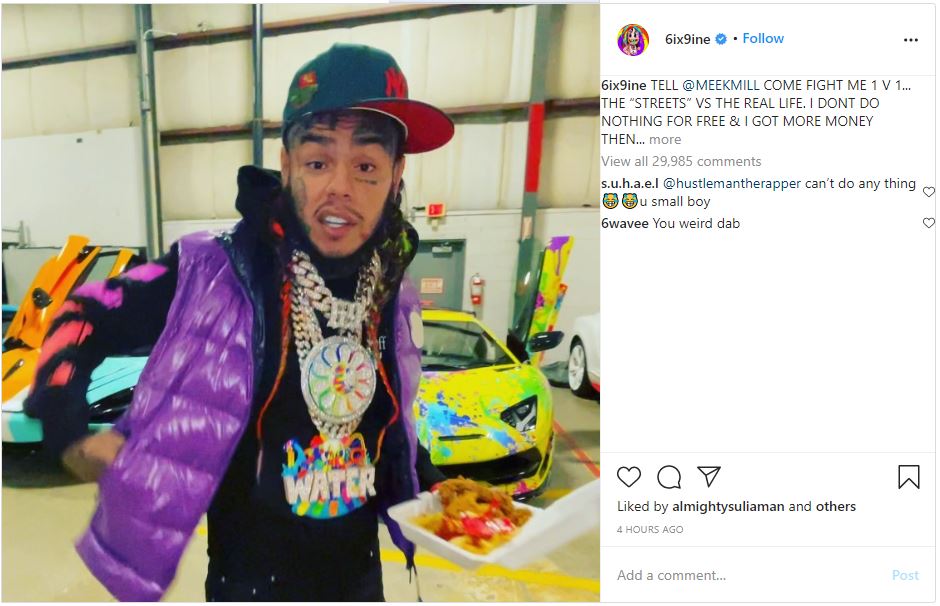 Who is 6ix9ine or Tekashi
6ix9ine, aka Tekashi69, is a famous, talented American Rapper, songwriter,  and social media star. He is best known for his rap song like KOODA, Bebe, Gammon, etc.  Tekashi69, aks, 6ix9ine was born on May 8, 1996; his real name is Daniel Hernandez.  6ix9ine is Always at the top of Headline due to his controversial bereavement and allegation and tattoos of 69 kinds of art on his whole body.  They built his gang and named it 69—Daniel Hernandez, born in Bushwick, Brooklyn, New York City.
Here you can see this super hot and trending video on Instagram, Challenging Meek Mill for 1 v 1 fight.
You can read what he has shared on his Instagram just read it.
6ix9ine Car collection
Recently on a 1 on 1 challenge video Tekashi shows off his expensive cars; in his fleet, he can see a Lamborghini Aventador, a Rolls Royce Wraith, you can see a Bentley, a Ferrari, and much more. The garage is full of luxurious, expensive cars. The feeling can be understood by car lovers only. If you want to check Tekashi Cars' collection, you can check the above viral video, where 6ix9ine can be seen throwing challenges to Mill.
Recently Lil Uzi vert diamond embedment went viral; many people showed how expensive a $23 million diamond was set on his forehead goes wrong.   Recently Lil Uzi vert,  Lil Baby already showed off their expensive car and jewelry collection, but a recent showcase of 6ix9ne is very much confident that he has the best.   He believes that he has the best car collection and has expensive jewelry too in his pocket. He has also seen some diamond-planted costly wristwatches on this video. 


What DoesTekashi Say about his car collection?
Tekashi, showing off his expensive cars, said that "most rappers buy Lamborghini Urus because they can't afford the Lamborghini Aventador, which is much more expensive." But He has that precious one Lamborghini Aventador, the super-luxury SUV, in his garage, which most people dreamed of.
Recommended for You : Nipsey Hussle Net worth