9 Affirmations For Your Wellbeing: Affirmations are powerful, and they create a lasting positive impact on wellbeing. The power of affirmations lies in their ability to challenge and override self-sabotaging and negative beliefs. There are many areas of our lives where we may have such beliefs.
Repeating your specific affirmations often and believing in them allows you to begin to make positive changes. Thinking leads to beliefs, and beliefs lead to our state of being.
Studies show that thinking about your strengths before a high-pressure situation can calm your nerves, boost your confidence, and increase the likelihood of a positive outcome.
In addition, we believe affirmations can also help reduce the effects of stress on our day-to-day lives. The use of a short affirmation daily can help 'chronically stressed' subjects achieve the same level of problem-solving ability as those with low levels of stress.
To help you stay positive and continue making changes in your lifestyle and prepare for the change of season, the darker days, and the last quarter of 2022, we are sharing our affirmations of courage and purity.
Recommended: 57 Daily Affirmations for Men
9 Affirmations For Your Wellbeing
Affirmations are a powerful way to heal your body and soul. Affirmations can help you once you identify what needs healing in your life. You may need an affirmation that helps you grow more confident or one to help with creativity, or even one to help get rid of stress from work.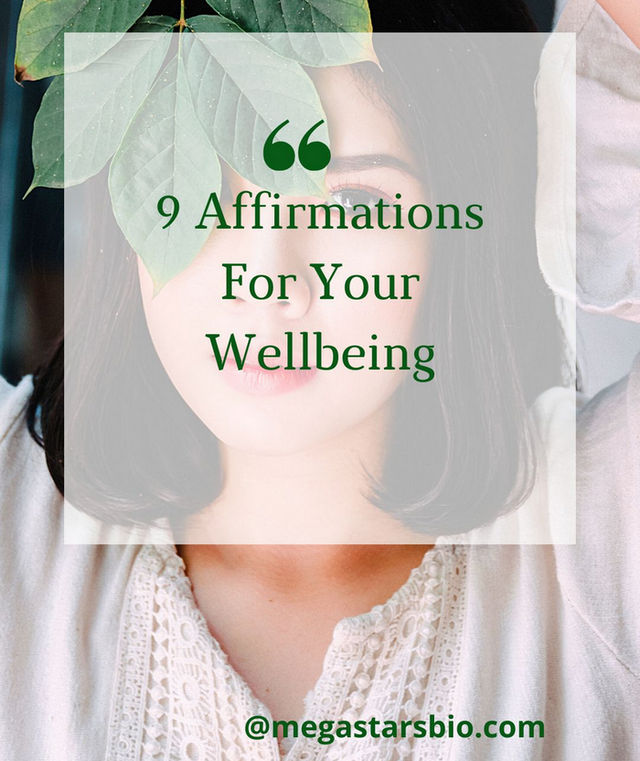 Affirmations for prosperity, and those for relationships, are very powerful. Of course, you can make your own affirmations, but here are some that you may want to try.
Here are 9 affirmations for your wellbeing to tell yourself every day:
1. Every day is filled with happiness when I wake up.
2. I can get through this tough time.
3. I am strong, I am worthy, I am beautiful.
4. It is my life I am in charge of.
5. I choose to focus on the positive.
6. If I can see the good, it's there.
7. I have the power to change my life today, this minute.
8. My happiness is my responsibility.
9. I am honored to be a blessing to others through my work and my talents.
You may also read; 81 Morning Affirmations For Women.
Some More Important Points:
It's not just your appearance: Diet and exercise are powerful tools for boosting your mood.
When you're feeling a little down, it's extremely important to take care of yourself physically and mentally. Getting grounded in the basics of proper diet and exercise is an uncomplicated task that can be done at any time, no matter how pressed or stressed you feel.
You'll start to feel more confident far before you see any physical changes in your body, but these changes will eventually follow as you learn what true wellbeing means to you.
When you use affirmations alongside other strategies, such as visualization and goal setting, they are most effective. We suggest repeating these aloud, before a mirror, in your journal, or to yourself, and incorporating it into your daily routine.
Recommended: 69 Positive Affirmations for Women to Start Their Day Right.