Chiquis Rivera assured that the owner and CEO of DEL Records would be the love of his life. Chiquis Rivera and Angel Del Villar started dating in 2018, and Chiquis's acceptance makes their life more precious.
For those who do not know, Chiquis Rivera had her first great love with Ángel del Villar, owner and CEO of DEL Récords. This love affair caused Chiquis several discussions with her mother, Jenni Rivera, since the late singer disapproved of that engagement.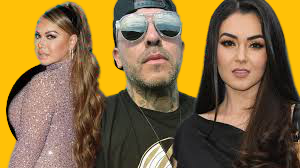 In the most recent podcast and video podcast, Puro Pa´ DELante (one of the new CEO of DEL Récords), Chiquis Rivera and Angel del Villar was face-to-face the first time and without censorship about the media relationship they experienced.
Both Ángel del Villar and Chiquis Rivera told how they met, how their love relationship began, how Ángel confronted Jenni Rivera herself, and much more. Ángel del Villar said that they had met at a Billboard Awards.


"I still didn't know who Jenni's daughter was," who later got her cell phone. Then, after a month, Chiquis answered. Angel invited her to dinner and stole a kiss from her. The rest was history.
One of the obligatory questions of the presenter Rubí Molina was the reason for their separation.
Ángel del Villar also commented: You can check below.

When she and I already mixed the business with the relationship, I think that was when the relationship began to deteriorate, yes.
In the second chapter of the Puro Pa´ DELante podcast and video podcast, both Chiquis Rivera and Ángel del Villar detail step by step what happened the day the rumor that linked Chiquis and his ex-stepfather Esteban Loaiza came to light.
The producer secretly married Cheli Madrid
Recently Angel Del Villar Married Yesenia Araceli Rodríguez Madrid, famously known as Cheli Madrid, a social media sensation and a famous Mexican genre female singer. Whose Melodious voice makes him famous and become a celebrity. On February 27, Chiquis Rivera's ex-partner, José Ángel del Villar, decided to marry the singer Cheli Madrid in a civilian manner.
Chiquis and the CEO of the record label DEL Records maintained a sentimental relationship and later ended for the good of the relationship between them, since combining work and personal life is never good, as José Ángel said in an interview for the program El Gordo and La Flaca.
Also Read: Sophie Mudd Net Worth