Ram Vilas Paswan Death: Union Minister and LJP founder Ram Vilas Paswan died on Thursday. At the age of 74, he breathed his last. His son and LJP president Chirag Paswan gave this information on Twitter. He tweeted,

"Papa …. You are no longer in this world but I know you are always with me wherever you are."
Lok Janashakti Party founder and cabinet minister, Union Minister of consumer affairs, food and public distribution, and Dalit leader have passed away on Thursday evening.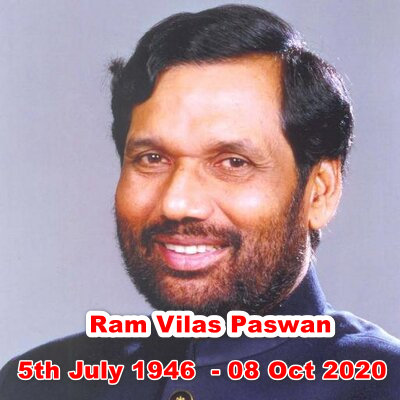 Ram Vilas Paswan was ill for a long time, and his physical condition was not good. He has spent a long time in politics. His entire life has been given and serving the nations. Ram Vilas Paswan is the only person who makes himself available to the chair of the cabinet set, in the regime of VP Singh, HD Deve Gowda, Inder Gujral, Atal Bihari Vajpayee, Manmohan Singh, and Narendra Modi. He probably was the only person to make their place in the 'cabinet' of these prime minister eras. 
Recommended: Donald trump Quote
पापा….अब आप इस दुनिया में नहीं हैं लेकिन मुझे पता है आप जहां भी हैं हमेशा मेरे साथ हैं।
Miss you Papa… pic.twitter.com/Qc9wF6Jl6Z

— युवा बिहारी चिराग पासवान (@iChiragPaswan) October 8, 2020
Ramvilas Paswan, who took the pulse of politics, first came to Bihar Assembly in 1969 as a member of the United Socialist Party from a reserved constituency. In 1974 Raj became the general secretary of Lok Dal as a strong follower of Narayan and JP. He has been personally close to prominent Emergency leaders like Raj Narayan, Karpoori Thakur, and Satyendra Narayan Sinha.
Also Read: Narendra Modi Biography
Born on 5th July 1946 in Khagaria, Bihar, Ram Vilas Paswan set out on a journey through a small area to the power of Delhi. He completed a master's and a law degree and passed the Bihar civil service examination successfully. After this, he never looked back. He dominated the politics of Bihar and the country for nearly five decades. He also set a world record of winning the most votes in the Lok Sabha elections.
Recommended: Donald Trump Biography