Will Smith: Not just slapping Oscars stage, but also Will adds to the controversy over drug addiction and Tantric s**
"Keep my wife's name out of your f***ing mouth," Smith said from the audience following a physical confrontation. Shortly after, Smith won his first Oscar.
The Oscars were best remembered for Will Smith's storming onstage and slapping Chris Rock for a joke about Smith's wife, Jada Pinkett Smith. You can watch the video, which is attached below.

The incident happens while Rock Was presenting the best documentary during the 2022 Oscar Ceremony. While Presenting the show, Rock made a crack about Pinkett Smith getting ready to film a sequel to G.I. Jane — An apparent reference to the actress having a shaved head. Here Reader please remember that Pinkett Smith has been open about her hair loss due to alopecia, she is suffering from this disease for a quite long time.
"Jada, I love ya," Rock said. "G.I. Jane 2, can't wait to see it. All right?"

This line of Joke goes wrong and Will Smith loses his mind and Slapped him walking on the prestigious Oscar Stage.
Will Smith shook the Oscar stage in one Strong Slap. He was seen on stage again before he could recover from his shock. This time, however, Will is on stage to win the Best Actor award in 'King Richard'. "I hope the academy will invite me again," tearful Eyes said in the winner's speech.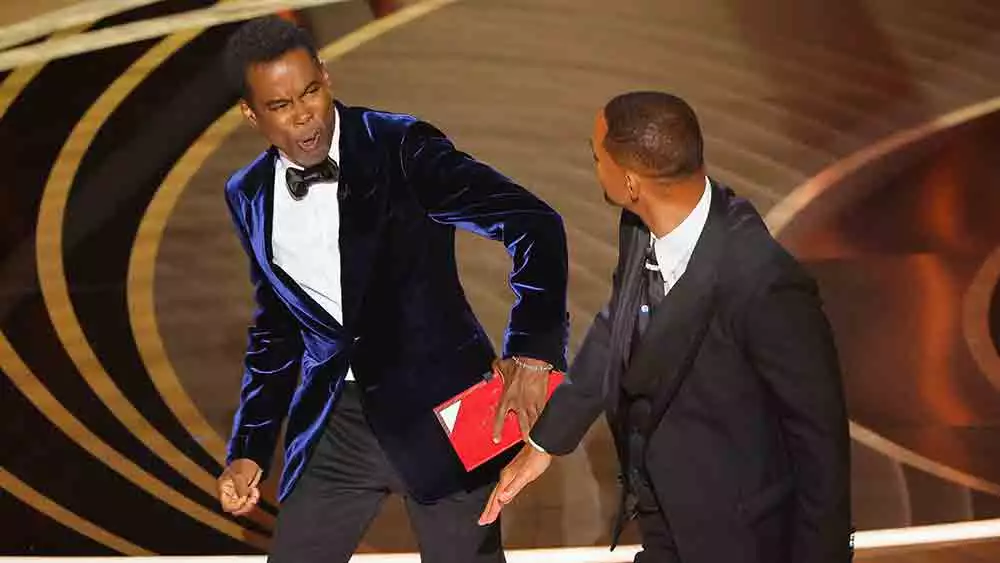 At the Oscars Ceremony on Monday, comedian Chris Rock indirectly taunted his wife Jada Pinkett Smith at the Oscars Stage. "I'm looking forward to the sequel to G.I. Jane 2 "
he said. After that, Chris got up on the stage and slapped Chris on the cheek tightly. The fact that the matter is not sorted out is evident in Will's counter-comment. Will Smith sits in his seat and yells at Chris, "Keep my wife away from your (dirty) words!"
Puff Daddy has promised to be by his side as a family to solve Will Smith's troubles with Chris Rock. According to the Hollywood media, Will was not shattered by the slap that shook the Oscars. During the ad break, Denzel Washington and Taylor Perry came up to handle him and the situation.
Will is furious at Chris's sarcastic remarks about Jada. Will explains that he can't stand Chris's joke about Jade, who has short hair like Demi Moore, the heroine of 'G.I. Jane'. Chris has been slapped in retaliation for comments about Jada, who suffers from Alopecia that we already said.
You may also know about the weight loss journey of an American actor, Will Smith.
Will Smith Other Controversy
But this is not the first time. Will Smith has been involved in controversy many times before. At the time, however, no comedian like Chris was needed as a catalyst for controversy.
Chris's autobiography was published last year. Mark Manson is also holding a pen with Will Smith in his autobiography called 'Will'. In this Autobiography, he accepted many incidents that create controversy and comes to the public.
In his autobiography, Will reveals unknown things about his son Jaden Smith, starting with his 24-year relationship with Jada Pinkett. He spoke frankly about his mental state, thinking of committing suicide as a teenager.
The 53-year-old actor became famous at an early stage. Before starring in sitcoms such as 'The Fresh Prince of Bell Air', he focused on hip hop music with DJ Jazzy Jeff. At an early age, the mother was the victim of harassment at the hands of her father. Will also admits that he was devastated when his mother left the family. He also wanted to commit suicide in this crisis of the family. He was 13 at the time.
In his autobiography, Will admits that while working on the 1993 film Six Degrees of Separation, he fell in love with Stockard Channing. But at that time he was living with his first wife Sherry Jampino. So the relationship with Stockard had not seen success, and not progressed much.

Also Read: Who Is Lizzo Dating Now? Know Her Relationship Status in 2022.

Will, who jumped on Chris after comments surrounding Jada Pinkett, had a strained relationship with her. Rumors had spread that, the couple started living separately in 2016. But there is no evidence to favor this news. Not only that Will Smith has written distrust of her wife's relationship with Tupac Shakur in his autobiography. He doubted his wife very much.
Will also admits that Jade's intimacy with American rapper Tupac could not be accepted. Although the fact is Tupac and Jada grew up together, their closeness was normal, Will said.
Referring to Tupac's reputation, Will said, "At the beginning of our relationship, we always thought of him. He was packed. And I am me."
Like him, his son Jaden Smith was also established in Hollywood at an early age. However, Will indicated that his relationship with his son was not easy. At the age of 15, Jaden wanted to be free from parental rule, and become independent.
Will Smith was seen with Jaden in the 2013 film 'After Earth'. The much-awaited picture of the father-son duo, however, the movie flopped at the box office. Critics said he was unhappy. Will said, on the one hand, failure at the box office, On the other hand, He was devastated by his Son separation decision.
There have been many other controversies in Will's life. It was heard in 2011 that Will had started living apart from Jada Pinket Smith. At that time he became addicted to drugs. At the same time, he started engaging in Black Magic S***. He has written all this in his autobiography.
Will Smith and Jada Pinkett Smith are known as one of the happiest couples in Hollywood. However, he said in his autobiography that he was addicted to drugs in 2011. He also said that he had taken the Strong drug 14 times in two years. He even went to a Tantric s** expert for s**.
The debate did not stop there. Will said last year, they are very open about themselves. Even while married, the two have been involved in other relationships. Will also said that marriage does not mean staying in jail. In fact, they both wanted to have a harem. Will Smith also got involved in the controversy by commenting that it was his dream to have actors like Halle Berry and Misty Copeland in his harem.